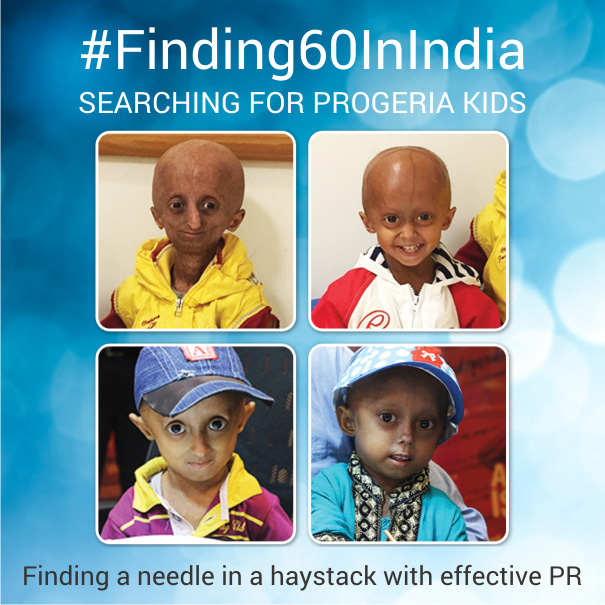 Rare Disease
Progeria awareness, Finding a needle in a haystack with effective PR and digital.
Rare diseases are often ignored or even hidden; and creating awareness amongst masses can help identify and tackle these diseases better.
#Finding60InIndia:
Progeria is one such rare disease which has an estimated 300-350 children around the world with 60 of them in India. It causes a child's body to age fast. Most kids with Progeria do not live past the age of 13. It affects about 1 in every 4 million births worldwide. In a country with population of more than 1.2 billion, finding kids with Progeria was as good as finding a needle in a haystack.
PRF Foundation, USA entrusted MediaMedic with this task and MediaMedic launched the campaign #Finding60InIndia using PR and digital & social media.
Targeting 26 major cities through media outreach, launching a short documentary, a website page pledging support, social media facebook page and radio campaign, this campaign was hugely successful in reaching about 180 million people through PR and over 20 million people through Social Media & other digital initiatives.
12 children were identified. Progeria search was trending on google in the week when Aamir Khan met Nihal and got media coverage. The Delhi government announced setting up a panel for Rare Disease, which will look at developing a policy on tackling rare diseases. The first name on the list being 'Progeria'.